Montana Silversmith Three Hearts and a Horse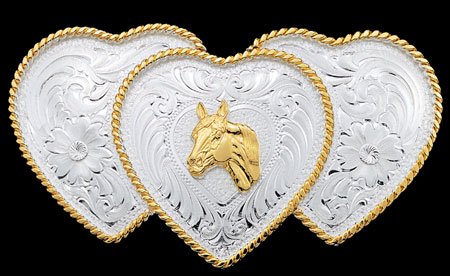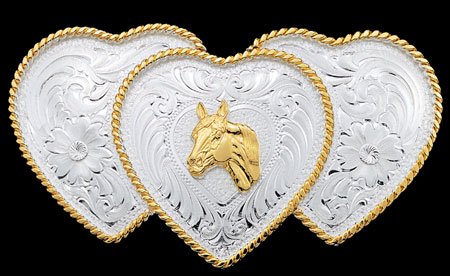 Montana Silversmith Three Hearts and a Horse
Very pretty buckle with three hearts and a horsehead in the center. Silverplate, made by Montana Silversmiths. 4 1/4" x 2 1/2" and for a 1 1/2" belt. Brand new, mint condition. Great gift!
Montana Silversmith is one of today's premier buckle makers and probably sells more buckles than any other company. Montana Silversmiths' modern production facility is located on the southern edge of Columbus, Montana, and within a few feet of the Yellowstone River. The business philosophy has always included creativity, innovation, passion and hard work as cornerstones since its beginning in 1973. George Branca is the current president.

All buckles are silver-electroplated, containing 99.9% pure silver by government standards. The patented "Montana Armor" is guaranteed for life not to yellow, or tarnish. It is 10 times stronger than lacquer.

If there are other Montana Silversmith items you'd like for me to get for you I'm happy to do that. No shipping cost and no extra charges for special orders.
Usually ships in 2-3 business days