Crumrine Steer Head and Barbed Wire Buckle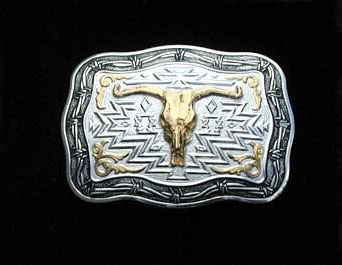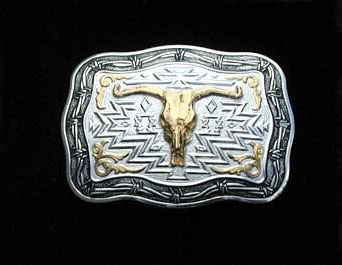 Crumrine Steer Head and Barbed Wire Buckle
Created by Crumrine this steer head buckle is surrounded with a barbed wire fence design. 4 1/2" x 3 1/2" and for a 1 1/2" belt. Very western!
Crumrine Gold & Silversmiths is one of the world's largest and most progressive buckle manufactures. Founded by Charles and Marjorie Crumrine in 1948 by the early sixties they developed a specialized hand-engraved manufacturing process. Today the business is located in Reno, Nevada and is owned by M&F Western Products in Texas. Crumrine products are backed up by a lifetime guarantee against material defects and workmanship.

If there are other Crumrine items you'd like for me to get for you I'm happy to do that. No shipping cost and no extra charges for special orders.
Usually ships in 2-3 business days