Comstock Heritage Roping Cowgirl Buckle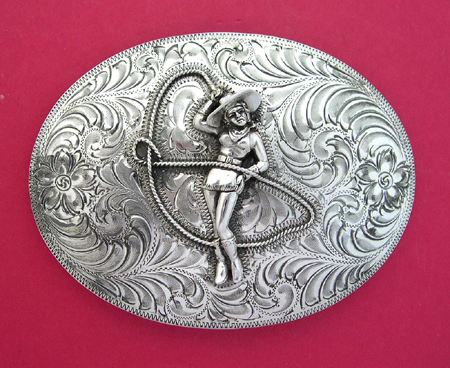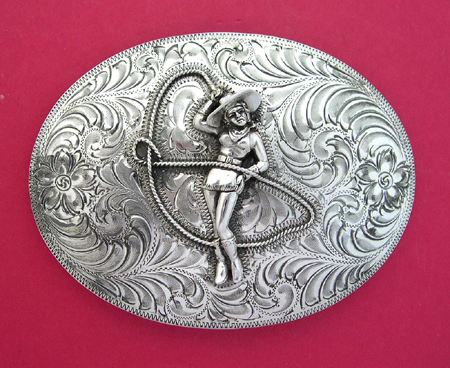 Comstock Heritage Roping Cowgirl Buckle
Comstock Heritage, the oldest silversmith company in America, created this classic image of a cowgirl doing trick roping. Simply outstanding hand work. Solid sterling. Cowgirl figure stands out from the buckle about 1/4" giving it punch. 3 3/4" x 2 1/2" and for a 1 1/2 Belt. Mint condition, brand new. Super!
The company began in San Francisco in 1886 when J.C. Irvine partnered with a man named Jachens (his first name has been lost to history) and began making brass and silver conchos (and later badges) at the J.C. Irvine Company (later Irvine & Jachens) on Mission Street. In the 1920s, Christian Stegman bought the company, doing silverwork for saddles for Keyston Brothers and others until parade saddles fell out of vogue in the late 1950s. By 1971, Christian Stegman's sons had divided the business, with Howard Stegman pushing silver buckles instead of badges and moving his company, rechristened Comstock Silversmiths, to Carson City. Irvine & Jachens, by the way, still makes badges outside of San Francisco. In the '70s, James Stegman's dad was doing literally hundreds of buckles a month, inexpensive rodeo buckles, good buckles, handmade 20-40-60-dollar wholesale buckles.

In 1990 James Stegman moved his family back to Carson City and worked for his father, and soon began pushing his father to try more expensive looks, using gemstones and better materials. Three years later, he got the go-ahead and Comstock Heritage was relaunched. Today James and his wife Donna live in Carson City, Nevada.
Usually ships in 2-3 business days